Mortgage rate surge triggers interest in unregulated financing
'There's no obstacle to misconduct,' an executive warns
Unregulated Turkish crowdfunders say they're grabbing a bigger share of the housing market as a surge in mortgage rates offered by traditional lenders prices out most potential homebuyers.
With rates at a 14-year high, "current financing conditions don't serve low- and middle-income families," Murat Ciftci, chairman of home and auto financing firm Birevim, said in an interview late last month. "As interest rates rose, people became more interested in our shared-savings system."
That system pools the monthly savings of hundreds of customers to build a fund large enough to allow one of them to buy a home each month. Birevim charges a service fee averaging about 9 percent. Competitors operate similar plans.
This type of borrowing has long been popular with Turkey's Islamic conservatives, as their religious beliefs forbid usury. But its appeal is expanding more broadly and Birevim sales brochures quote both the Koran and Pierre-Joseph Proudhon, the godfather of anarchism, on the evils of charging interest.
Erdogan Pressure
Higher borrowing costs have fueled expansion in a business with little scrutiny and few legal protections for customers. But the shift is also in part an unintended consequence of the Turkish government's sustained efforts to suppress mortgage rates. President Recep Tayyip Erdogan began demanding that lenders keep rates low in August of 2016. Banks responded in part by cutting back on the loans: the number of mortgage purchases has dropped on an annual basis in all but one month since.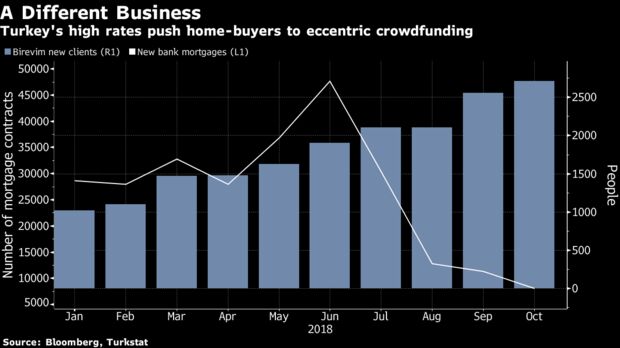 Birevim says its attracting about 2,500 new customers every month and delivered 319 homes in November, a six-fold increase compared to the same month of 2017. A client who wants to buy a home for 300,000 liras ($55,670) and is able to pay 3,000 liras per month into the program typically joins a 100-person pool. Every month, a single customer is picked through a draw to purchase a home.
At that point, monthly payments increase by 0.045 percent of the property's price tag. The installments also go up once each year by between 8 percent to 10 percent of the monthly payment. Such a purchase will bring Birevim about 27,000 liras.
Little Oversight
Turkey's real-estate market is laboring under crushing mortgage rates after the central bank hiked borrowing costs to tame inflation spurred by a collapse in the lira. While sales data appear robust, that's because a record number of deals by foreigners is offsetting a fall in domestic mortgage agreements. The average interest rate on mortgages was 28.6 percent as of Nov. 13, data compiled by Bloomberg show, having increased almost 15 percentage points this year.
Mortgage sales accounted for just 5.5 percent of total Turkish purchases in October — 8,065 homes nationwide. About that number of new clients are joining Birevim and its rivals each month, Ciftci said.
Birevim abides by a self-imposed "capital adequacy ratio" of at least 5 percent of the total monthly cash collected in its pools, he said. There's no official oversight to assess whether that would be enough to prevent difficulties if dropout rates increase from the current average of 2.5 percent.
The company only charges a fee and doesn't benefit in any way from the pile of cash collected, Ciftci said. It's not known whether other firms operate the same way. The banking regulator didn't respond to questions on the companies.
"There's no obstacle to misconduct," Ciftci said. "If client money is used elsewhere, firms may go bust."
— With assistance by Onur Ant, and Fercan Yalinkilic